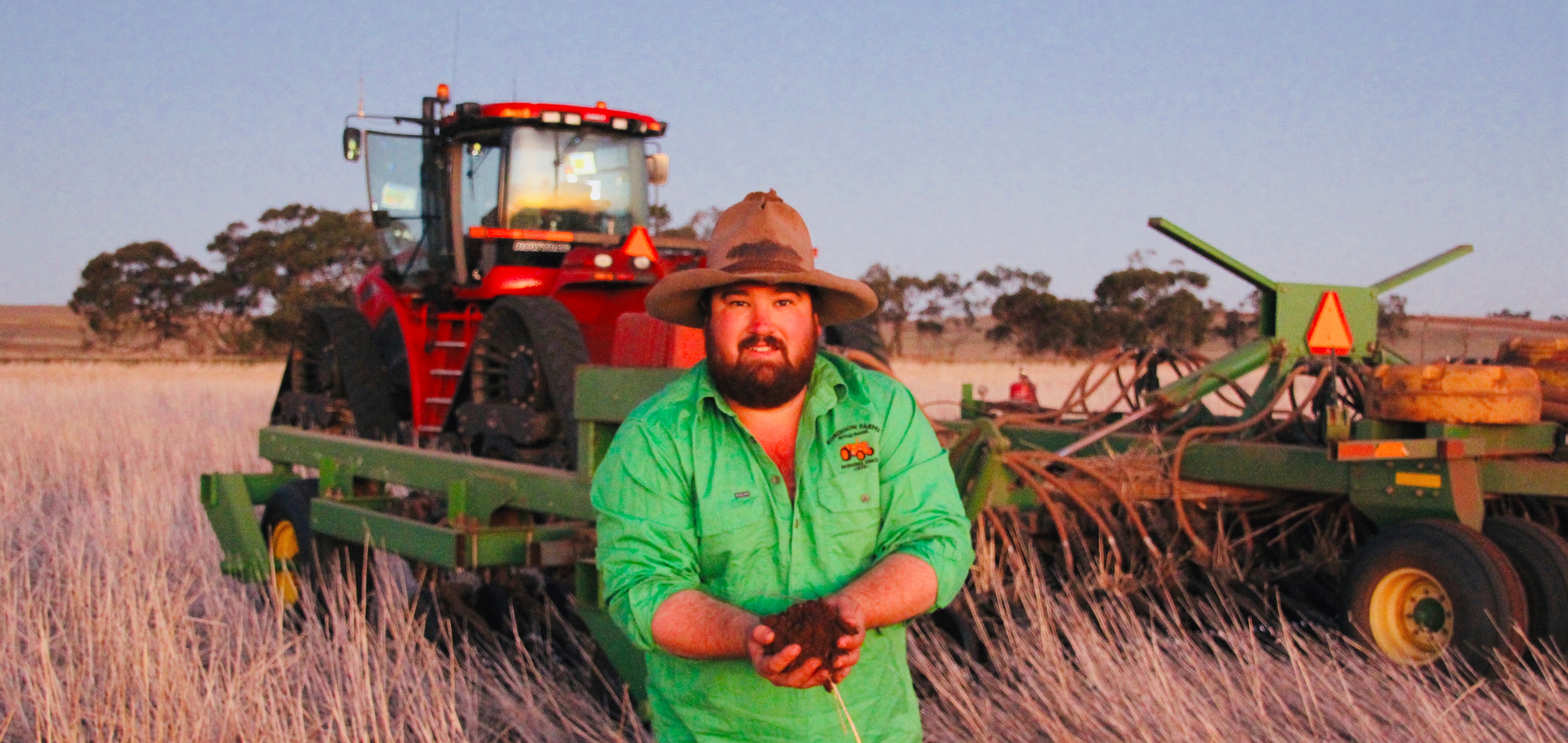 Farmer Friday: Tom Robinson – Hoyleton
---
Tom Robinson is a young farmer with a focus on soil health in his mixed cropping enterpise in South Australia's mid north region. Tom and his Dad, focus on zero till, full stubble rention and CTF within their operation with a variety of commodities grown each year. After recently introducing a summer cover crop program and bringing cattle and sheep back into the mix via strip grazing, one of the CloudBreak team sat down for a cuppa and a chat with Tom to pick his brains about the 2018/19 season and his plans moving forward. 
---
Location: Hoyleton
Enterprise: Mixed cropping, sheep and cattle
Rainfall zone: 375 – 475mm
Rotation: No specific fixed rotation. Last year: wheat, barley, lentils, chickpeas, canola, peas, plus summer cover crops.
CloudBreak member since: 2016
Marketing style: Year round forward sales, now starting to focus more on post-harvest delivered sales.
Main focus: Zero till / full stubble retention / soil health
---
Last year was obviously a very challenging year, how did you fare in the end?
It wasn't the drought that impacted us, it was the frost that hurt the most. We haven't seen that much frost in the last 8 years but despite the limited rainfall we were surprised by yields. Our wheat was hit the hardest by frost, but our barley missed it. We were very surprised with how Planet barley performed in such a dry, tough year understanding that Planet is a European variety. Our canola ended up reasonable but was low in oil (40% – 41%) so we made the decision to store it on farm in a grain bag and sell it into the domestic market for March delivery. By selling our canola into the domestic market, we could receive a flat price with no deductions for our lower oil content. 
Your focus is predominantly on soil health, how did this help you manage the variability of the season in 2018?
Zero till and full stubble retention helped retain all moisture that did fall. The stubble basically allowed us to grow a crop because moisture is our most limiting factor.
When did you first implement zero till / full stubble retention?
Dad started minimum tillage in the early 90's and stubble retention. We have been zero till since 2003, which all happened whilst I was away studying (returned home at the end of 2009). In 2010 we started implementing controlled traffic and went full CTF by 2015. We purchased our first stripper header in 2010, allowing us to leave our stubbles taller, slowing evaporation rates and keeping more soil moisture. Sowing into the stripper stubble is fantastic giving us 100% ground cover 100% of the time.  We also introduced strip grazing of cover crops and stubbles last year with both cattle and sheep.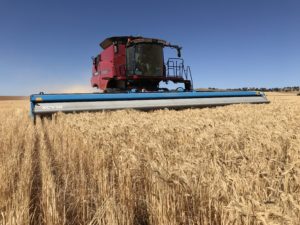 What challenges did you face when implementing zero till and full stubble retention?
It was all new technology and a bit controversial for Dad, some negative comments were made but essentially it was a learn as you go experience. He had to have a massive change of mindset and make his own mistakes to learn as there was nobody to follow, but that has allowed us to be resilient when presented with challenges as we know how to tackle them.
What benefits to your crop have you seen since implementing zero till/stubble retention?
We have definitely seen an improvement in yields but now we are focussing on reducing our cost per hectare. We used to do a lot of soil testing, and still do a bit here and there but have come to use leaf testing as a better indicator for fertiliser requirements. We understand what trace elements are lacking and try to correct them through seed dressings and foiliar applications. Instead of going "cold turkey" on reducing inputs, we are slowing reducing them over time.
You started converting to a fully controlled traffic (CTF) operation in 2010 and completed the transition by 2015, have you seen any yield improvements since then? Do you think the hassle of converting all your machinery have proven its worth?
It's hard to tell if the CTF is the main reason behind the yield gains, we can't really attribute a 10% yield gain to just one element when we are doing so many other things on the farm such as retaining our stubbles, planting summer cover crops and ensuring we are zero till.
It has probably helped us with our fuel economy when working on the hardened tram lines and potentially increased the efficiency of our machinery/operation. If I had to give up one element of my farm it would probably be the controlled traffic, purely because out of all of the practices we implement each year, it provides the least benefit. We see bigger opportunities down other avenues, particularly with our soil type.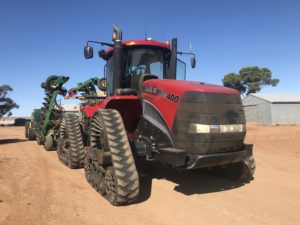 How does your cover crop rotation work and how do you manage soil moisture, erosion and nutrient content whilst strip grazing with cattle and sheep?
We are choosing to put mixed species winter cover crops where we have poor performing soils, or where we know we have a weed burden that needs to be controlled by another method. Our cover crop contains 8-10 species of plants, all adding diversity to above and below ground growth, also adding diversity to the cattle's diet. We aim to maximize our soil moisture profile every year as I am worried that if we leave too much moisture behind after the cropping season we could see a rise in salinity issues in the future. We work so hard to save all our moisture to grow crops (zero-till, stripper header, CTF) and I want to make sure we try to use it to produce as much grain or cattle feed as possible.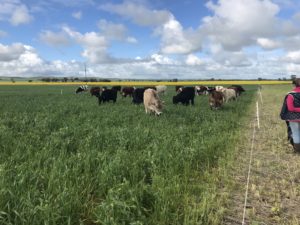 We have also been playing around with summer cover crops and summer cash crops, having grown sunflowers, mungbeans, millet and corn in the past. The biggest issue is getting those crops to set viable seed in our hot dry summers and summer cash crops are opportunistic when we have excess moisture after harvest. We have grown some great summer cover crops before and have tried to improve the soil and break up hard pans by using deep rooted plants, but we never had the livestock to really help boost the soil biology.
However, we are still learning so much and there is no simple answer to this as different cover crop mixes, different livestock, different soil types all behave differently. There is never a "one size fits all" approach when cover crops and soil health is discussed.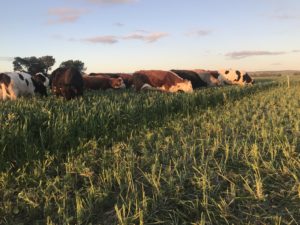 In regard to your cropping plan, how has it changed/improved since implementing these various techniques?
Our cropping plan is very versatile and ever changing, it really depends on paddock selection, prices, and weeds each year as to what we grow and what we think we can grow.
You are in a very versatile area in terms of delivering grain to varying locations, do you store much on farm and does this prove to be beneficial?
Yes, we use bags and smaller bins, but we find the bags really easy to use during harvest as it is just Dad, Mum, my wife Cassi and I. It depends on the season as to what gets stored with price fluctuations and trends. Harvest is already busy, therefore storing on farm minimises the pressure to truck grain at harvest, and we can think about it later rather than impulse sell.  It is definitely beneficial with premium prices for off spec grain and allowing us to blend grades together to improve the overall product, particularly as our location allows us to have access to a large variety of markets.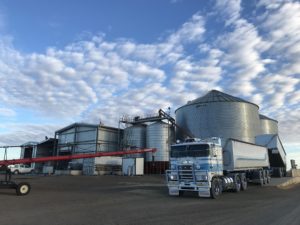 What do you plan to do in the future?
Our major plan for the future is to increase our permanent on-farm storage to keep maximising on the delivered premiums. We would like to have a proportion of upright bins for human consumption commodities like lentils and chickpeas. We will still keep our grain bagger, but hopefully in the next 5-15 years we will have opportunities to put up permanent silos for all commodities grown on farm. This would also allow us to store feed on farm easily if we ever decide to use grain to finish livestock.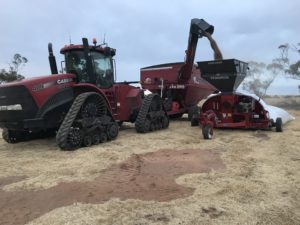 This year was very complex with site pricing, port pricing and ex farm, did you find this difficult to interpret?
No, I found it very easy to ring CloudBreak during harvest to find out what's going on and work out where the best options would be to deliver grain or whether we should hold onto it.
Over your three seasons as a CloudBreak member, what do you think provides the most value to your bottom-line in terms of services provided?
I enjoy having the CloudBreak team on our side doing the "wheeling and dealing" for me with the grain buyers. It's like having a personal grain marketer just for our farm. Nothing is too much trouble, and they are always happy to have a chat about what's happening in the world of grains and consider a marketing strategy for the future. It takes a lot of pressure off me knowing that the contracts are being done correctly, and the best suited grain is going into the right contracts.